So a lot has been in the "news" lately about how Monongalia and Preston Counties in WV will be losing WBOY-TV on March 14th, 2017. Now both Comcast and WBOY have pointed fingers at each other as to why the retransmission will cease on that date. WBOY states that it's parent owner, NexStar Media Group, is not the reason it is being dropped. Also Comcast has been a little light on the information it has provided as why it is dropping it as well.
The interesting part about it is most people (or I should say all Comcast subscribers in Mon and Preston County) should have received a letter from Comcast stating that the station will be dropped on 3/14. I received a letter, however it was not for WBOY. But for another Nexstar Station WTEM-TV in Elmira NY. The premise was the same, the station is not in the receivers DMA (Designated Market Area) and Comcast states "our business agreement with the station's owner to cary this out-of-market broadcast station has ended."
What this reminds me of, and everyone has experienced it with cable and satellite services, is that the owner of a station, and it doesn't have to be broadcast stations but could also be a "cable type station", believes that the price that the cable/satellite provider is paying them for their station isn't what they believe it is valued at. This happens all the time, and most recently Dish Network was going to drop WBOY from DISH the Friday before the Super Bowl. So my personal opinion is now that Nexstar owns WBOY / WTEM they asked Comcast for a increase in the retransmission fees, and Comcast said no because it (the station) was not a primary DMA station. So they dropped the contract and the viewers are left "hurt".
What makes it more difficult with Mon/Preston County they are in the Pittsburgh DMA. (Which I actually like because I actually prefer the Pittsburgh Broadcast stations, they seem more professional and have less mishaps like running a commercial in the middle of program when there shouldn't be one.) But I also see the viewers point of view too. WBOY has a small studio in Morgantown and do local news for the area. Whereas the Pittsburgh channels may only do a story about the area if it is something major.
Another issue to add to it is, while WBOY is a broadcast channel, it is a weaker signal. In addition it is on VHF, which with a digital signal, propagation is severely limited especially since their power output (effective radiated) is only 12.25kW vs. say WPXI in Pittsburgh (the NBC affiliate for the Pittsburgh DMA) which broadcasts on UHF 48 at a effective radiated power of 1,000kW. Given that north central West Virginia is a dissected plateau it means you need a antenna really high and very directional to pick up channel 12 or cable/satellite provider to provide you the signal. (I also live in a valley, which means the only station I can even begin to pick up is WNPB the PBS affiliate that is in Morgantown.) So viewers who want to keep WBOY only have a couple of solutions. The first would be to see if they can receive the signal, but according to this graphic, that seems a little hard for the Morgantown area for OTA reception: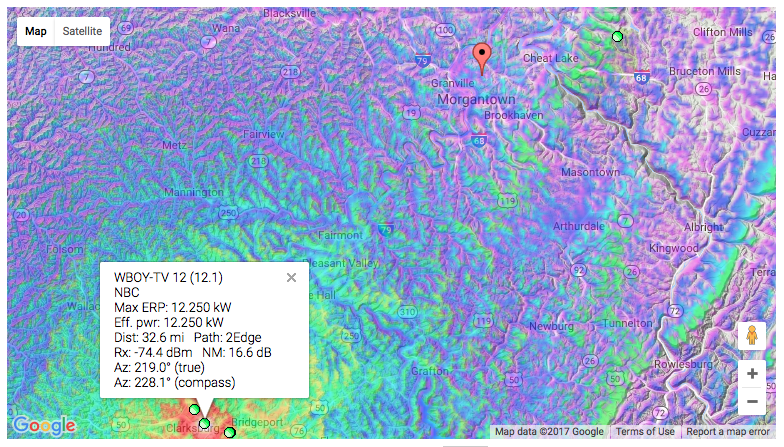 As you can see by the time it hits Morgantown it is very fringe reception. Also you may not have the ability to put an antenna outside to pick it up. So the second option would be Satellite, however those people would fall back in to the Comcast scenario, since Mon and Preston are part of the Pittsburgh DMA, the satellite provider will only give you those channels and none of the off-market channels. So you are left with not seeing the channel at all.
Now some people in the counties have been trying to get Mon and Preson reclassified in to the Clarksbug DMA. (I for one don't want to see that as I like the Pittsburgh channels better…) I however don't see this happening as the Pittsburgh stations would then fight they are losing a major source of viewership.
So the interesting part about this area, is there are 3 "major" TV markets that are in very close proximity. The largest is the Pittsburgh DMA which includes stations (major broadcast) KDKA (CBS), WTAE(ABC), WPXI(NBC), WQED(PBS),WNPB(PBS)[technically in Pittsburgh, but also listed in Clarksburg/Weston], WPGH(FOX), WPNT(MyNetwork). The other two are smaller markets. Clarksburg/Weston has 3 broadcast stations, WDTV (CBS), WVFX(FOX/CW) and WBOY (NBC/ABC). The third is the Wheeling WV/Steubenville OH which has 2 broadcast channels, WTRF (CBS/ABC/MyNetwork) and WTOV (NBC/FOX/MeTV)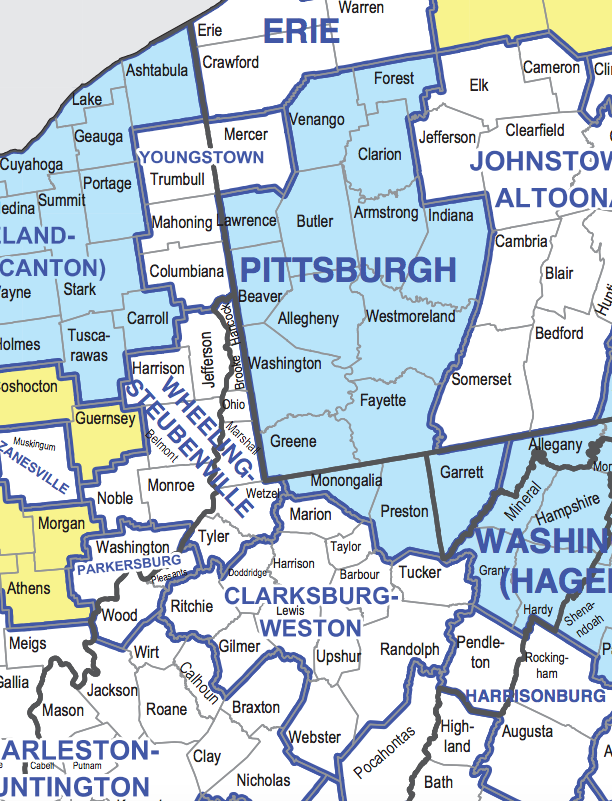 Now when I lived at home with my parents we are pretty much in the middle of all three of these markets. I actually had several antenna's in the attic that could pick up a lot of these stations, so we had several of each broadcast network. This is where I also became a video junkie and loved doing late night DXing of stations. Now my parents can only get the Pittsburgh stations on cable, even though the area could technically receive stations from all 3 markets.
But the whole reason for this post is my speculation of what actually happened vs what is being told to the customers. In short I believe Nexstar asked Comcast to provide them more money to be able to retransmit WBOY on the Mon and Preston Counties Comcast system. Comcast said, no you are a secondary so we will just drop you. And that was it, no more negotiation, no more looking out for the best interest of the viewers of the station, just drop it. While I seldom watched WBOY, there were times that I did when major events were going on in the state and the Pittsburgh channels were not covering it. It also begs to ask that if it really was a issue with the station being out of the primary DMA, then why is Comcast keeping WDTV and WVFX since they are out of the Clarksburg/Weston Market as well. Sure people will have to switch to one of those for local news, but I guess it is better than losing all 3 stations.
I doubt that Comcast will change their mind, even though they make billions of dollars a year. But in the reality I am surprised that the stations have been carried for as long as I have been here (over 23 years).