So the other night when I was testing the speed's I was doing it with my MacBook Pro on the wireless.. Tonight I decided to do it from the desktop that is wired in at 100mb/s link, here are the results: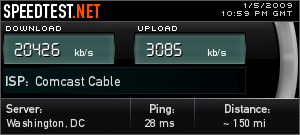 Pretty darn nice…. The weird part is I think my comcast connection goes through DC instead of Pittsburgh. On the Pittsburgh comcast speed test I get 20mb/s right off the bat, but then it drops down to about 13 / 14 mb… on the DC test it stays around 20 until the last couple of seconds and then drops down to 19.94, but I think that is just the finishing of the file. So it looks like even though Pittsburgh is geographicly closer the route to dc may be bigger.
The Pittsburgh test site is in summit park, which funny as it is only 5 hops from my house. The DC test site is in Manassas VA, which is at least 9 hops.
To get from my house to the DC test site, it goes thorugh pittsburgh ph, cleveland oh, pittsbugh pa, mclean va, and then capitlhights maryland.
To get from my house to the Pittsburgh test site,just 5 hops, and it is there. both of the ones out side of morgantown are in pittsburgh..
Very weird