I received a jetBlue email today about "Earn a complimentary oneway flight!".. And the funny part was this paragraph in the message: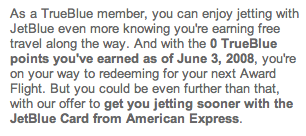 Looks like they need to modify their select statement to only print parts of that paragraph if you actually have TrueBlue Points... Unfortunately I had some, but since I did not get to use them they expired after a year.
I was going through my RSS feeds tonight and saw this USA Today article about how USAirways is pulling more flights out of Pittsburgh, PA.. As I read down through the article something else catches my eye:
As for commercial service, the following cities will lose US Airways service to Pittsburgh: Charleston, W. Va.; Chicago O'Hare; Denver; Erie, Pa.; Norfolk, Va.; and Toronto. Depending on the final scheduling decisions of US Airways' regional, US Airways says it assumes the following cities will also likely lose Pittsburgh service: Bradford, Pa.; Clarksburg, W. Va.; Franklin, Pa.; Jamestown, N.Y.; Johnstown, Pa.; Lewisburg, W. Va.; Louisville; Morgantown, W. Va.; Nashville; Parkersburg, W. Va.; Syracuse, N.Y.; and Washington Dulles. Among the non-hub flights US Airways is expected to keep are routes to Los Angeles, San Francisco and Orlando, among others.
The key thing in that excerpt, the Morgantown, WV, Parkersburg WV, and Clarksburg WV. We just finally got commercial air service back since the flop with Regions Air (dba Continental Express), and now we have Colgan (dba USAirways Express). So if they are going to cut the flights out of the Tri-City's to Pittsburgh, were are the flights going to go now? Dulles, Regan? Either would be cool if they did, make my life a little easier. I predict in a year USAir will only be flying a couple of connecting flights out of Pittsburgh to PHL and CLT. This sucks really bad as now I have over 50,000 miles on USAir and not really anywhere to go from Pittsburgh..
What I think should happen is that JetBlue take over PIT and make it a major hub like BOS and JFK are. There are always problems with flying out of BOS and JFK due to either weather, or too many planes in the area etc... Now is the perfect time for JetBlue to make a nice hub that rarely experiences weather problems or delays like JFK/BOS do. This would help JetBlue fix the delay problem before the FAA steps in to start changing flight schedules.. Which reminds me because of the amount of congestion in JFK I got an email from JetBlue saying both of my flights that were routed through JFK have been changed. The first one was changed by like 10 or 20 minutes on the connection through JFK. The second flight they instead are rerouting it through BOS.
Come on JetBlue, increase your service at PIT and make it a good hub again. I think you would do very well there.
I just finished getting back from an extended weekend trip to St Thomas. All told about 4424 miles on 2 different carriers. The trip down was on American and the trip back was on USAir. Both had their problems, let me start with the trip down.
I left on April 13, (yeah friday the 13th, so that should have been the first sign that stuff was going to go wrong) from PIT to go to STT. But to get there I had to go through LGA and MIA. Needless to say the FAA put a 18 minute hold on flights in to LGA. But that only set our flight from PIT there off by 8 minutes. Nice smooth flight, right past downtown NYC (still have not been out in NYC, but I have seen it from the air a couple of times and this time it was very nice.) When I got to LGA of course I had to change gates, but this also meant changing the concourses. So the bottle of water I had taken on the flight after purchasing it from PIT was not allowed to be taken through the TSA gate at LGA, so I had to throw away an almost full bottle of water that I had hoped to take with me the whole way.
While at LGA I went to Wendy's to get something to eat. I ended up paying almost $6.00 for a single cheeseburger. Why is stuff in Airports so much more expensive than outside of them? Anyways, I shoved the cheeseburger in my mouth and took a couple huge gulps of my water before throwing it away and going threw security again. All is well until we missed our boarding time and therefore missed our takeoff time. We were supposed to push back at 1:35. We did not push back until 2:29. This had me very worried by now as I was supposed to have about an hour and 40 minutes of time in MIA between flights. Well this turned in to 5 minutes by the time we landed, I had enough time to run from the one gate to the next (luckly the plane I was leaving on was docked at the gate next to the one we just docked too). I ran to the plane and got on and about 2 minutes later they shut the doors and off we went. We got to St. Thomas pretty close to on time.
So my picks about American. Next to 0 service on board. On the first two flights I was offered one of their "glasses" with some soda in it (about 3.5 oz). No food or anything. The flight from PIT I didn't care as I had my water bottle with me, but the flight to MIA, that is 2.5 hours and only 1 little thing to drink. The flight from MIA to STT had fewer people on it so when the lady came around I asked for the whole can of soda, but still there was still no free food offered (i.e. chips/pretzels/nuts/anything). So I ended up buying a can of chips from them for $5 just to have something to eat, since I had no time in MIA to get any food. So by the time I got to St Thomas, I was pretty well starved. I realize they are trying to save money but at least jetBlue, Delta and other carriers offer free food even if it is a 2.5 oz bag of pretzels.
Now the flights back to PIT from STT were handled by USAir.... We actually left pretty close to on time from STT to CLT and actually landed about 30 minutes ahead of schedule. They offered a full can of soda/drink and a mini bag of mini pretzels, and I also bought their "snack pack" for $5, which had chips, candy, fruit bar, and some other stuff in it so I had something to eat on the plane. When I got to CLT I was sitting at the gate and our board time came and went after about 40 minutes, the gate worker came on and said that the crew that would be flying us to PIT had just docked at a different concourse and was on there way over to ours and they would have to go over the plane before we could board. Well needless to say we did not push back until 10:45, an hour and 5 minutes after we were supposed to have left (and actually should have been in PIT by this time). But we ended up landing at PIT at 10 till midnight way later that the 10:43 we were supposed to have been. I slept through this flight so I am not sure what they offered the people, but it was probably the same as the first flight.
My biggest gripe about both carriers, LEG ROOM. Sitting in a coach seat for 9 hours going down and about 6 coming back was NOT fun. I wish jetBlue would have flown to STT as I would have used them even if it was a little more than the AA/US combo. I can't say how much it sucks to be a tall person and have the person in front of you ram their seat in to your knees for 2 or 3 hours straight.
I guess I made jetBlue's CEO David Neeleman's 14-March-2007 100th Airbus 320 Coming blog entry. Pretty cool I must say that he is actively looking for people who are writing about jetBlue and their experiences with the company. A +1 to jetBlue and their staff. What would really make me happy is if they could start flying out of KMGW... But there were would have to be a lot of changes happen for that to become a reality, right now it would be just a cool thing to happen.
Just got back from a weeks long vacation in Orlando Florida... First time I have ever flown jetBlue. Needless to say, I like them, but there were also some bad points too:
The Good:
DirecTV and XM Radio (only on the E190 planes, that I was on). The DirecTV was really nice during my delay (more later).
Friendly FA's and Pilots. Some of the jokes I heard during the 4 flights:

From the Pilot: Our flying time to JFK from MCO will be 2 hours and 8 minutes. Not much later one of the FA's came on and said "Our flying time to JFK will be 1 hour (short pause) and 68 minutes". The cabin just started laughing.
While sitting on the apron at JFK getting ready for push back to PIT, the pilot came out and said "Well, I have good news and bad news. The bad news is there is a light that has come on that we don't like. We think we can fix it by doing the good old CTRL-ALT-DEL, which I am sure many of you all know what that means. The next part of the Bad is that the plane will be with out power for 2 to 3 minutes. The good news, we should still get to PIT on time."
FA on same flight then came on and said "Since this is such a short flight, we are going to be doing an abbreviated service, which means you only get Coke, Diet Coke, Sprite, Cookies and Chips, but if you are a really good passenger we will give you what ever you want.
Different FA on the same flight while on the taxiway "Persons on the right side of the cabin if you look out your windows you will see a beautiful sunset over downtown New York City, and for those of you on the left side of the plane, well you still have the TV's to look at."
After a really nice landing in PIT, the FA came on and said "Well how about that landing people, lets give the pilot a hand..." not to many people did anything, and then she said "well I can't hear you so I am sure he can't, so lets try again...."

EXTRA LEGROOM.. The one thing I hate about being 6'5" is that seats in coach are always too tight together.. Well check out these pics (even more amazing is this is on one of their Embraer 190 planes. The Airbus A320 was just the same):

Free Wi-Fi at JFK, was nice to have something to do during a 4 hour layover. They also had some power plugs to recharge laptops while you were there. But they needed some more of those spread out.
The Bad:
Not really too much bad went on, the only real complaint I had was out of the 4 flights I had only 1 arrived on time. The first flight from PIT to JFK was 40 minutes late leaving, (which was better than the flight from PIT to BOS, which was over 4 hours late leaving). The flight leaving JFK to MCO actually pushed back pretty close to schedule, but we then sat on the taxiway for almost 40 to 50 minutes waiting on our turn to take off. When we pushed back there were 15 planes ahead of us, and it looked as though ATC at JFK was only using one runway for arrivals and one for both arrivals and departures. So I ended up being almost an hour late getting to MCO.
That is about the only thing I can think of that is bad. The delays on the taxiway are not under there control, that is a problem with JFK and they need to add some more runways or something.
Would I use them again, definitely, out of the 4 US airlines I have flown they so far have given the most bang for the buck.