I believe that XM Radio's Customer Service is probably the worst I have ever seen and has gotten worse every year I have had to renew my radio. This year their "trick" is that they are now going to start charging an extra fee to use the online part of the XM Radio service. Right now it is free but according to this:
Because you are a valued customer and you enjoy listening to XM Radio online, we are offering you a special opportunity to continue to listen online at no cost if you renew your subscription now with one of our longer term plans.

On March 11, 2009, the XM Radio Online listening platform will be upgraded to a higher quality digital audio and no longer included as a part of a base subscription at no charge. If you renew now at www.xmradio.com/lockintoday, you can continue to listen online for FREE for the length of term you choose -- but only if you act quickly. Rest assured, any credits on the account from earlier payments made will be applied to your renewal - you'll only be charged the difference.

Act before March 10!
This is your only chance to keep your online listening at no charge. Beginning March 11, if you wish to listen to XM Radio Online, you will need to purchase a supplemental Premium XM Radio Online subscription for $2.99* per month. Your current XM Radio Online listening privileges will be available at no charge until your next renewal date.**

It's Easy to "Lock In" & Save.
They are going to start charging for the online service. So I decided to "lock in" and renew my subscription for my car for 2 years, just so I would have the online service for free for the next 2 years as well. So I went to the web site they listed, and did a 2 year renewal and filled out all my information. The last thing I see is: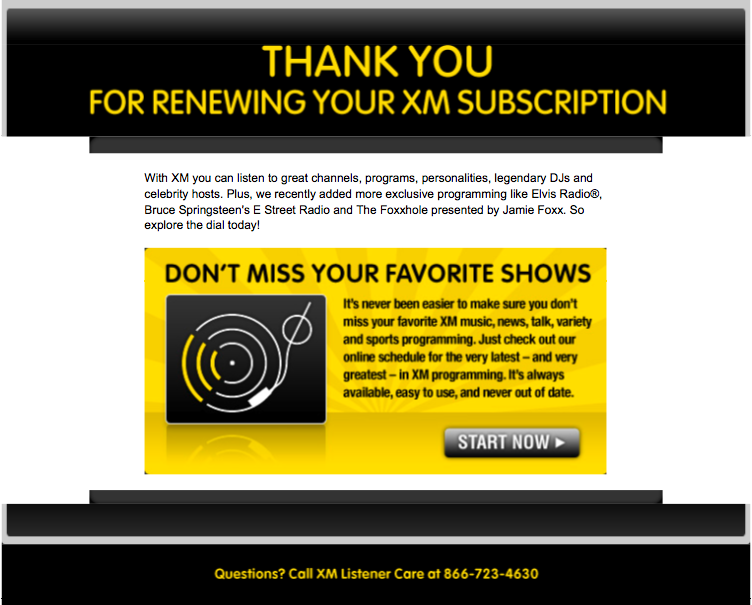 So I thought all was well. Well it has been 8 days since I did that. No charge has showed up on my credit card, and my "listenercare" site on XM's web site still shows that my I still have the 1 year service, and it was last paid on March of 2008.
I then went back to XM's site, and filled out a billing contact form to ask them what was going on... What did I get back from them:
XM is proud to announce our exciting new lineup. Along with your favorites, we have added new channels, shows, legendary DJ's and celebrity hosts, giving you more of what you love about satellite radio. You'll get 69 commercial-free music channels covering all genres of music, including new channels like Bruce Springsteen's E Street Radio, the Grateful Dead Channel, Elvis Radio, Jimmy Buffett's Radio Margaritaville, Siriusly Sinatra, Metropolitan Opera Radio, Eminem's Shade 45, Jam On, Little Steven's Underground Garage and more. Plus, you'll also get new personalities and exclusive shows like Barabara Walters, Chris Mad Dog Russo and Jeff Foxworthy. And, even more entertainment including Doctor Radio, Blue Collar Radio and the Foxxhole.

Everything you need to know about the new lineup is online at www.xmradio.com/newlineup. Download the new channel guide and keep it by your radio. With all of the new programming and personalities, Everything Worth Listening To is Now on XM.
Absolutely nothing to do with the question I sent them. I still have not even received any information about what is going on with my account either. So I decided to call the number listed on the email.. Got a man name "samual" with an obvious indian accent. He had problems with my account and could not understand why my stuff did not work. He then transfers me to his manager "winston" with another indian accent. He then "fixed" my account and told me that my credit card would be billed at midnight when their system does billing. So we will see if it works or if I have to make another call back to them yet again.
One thing that XM really needs to do is work on their web site and their customer service. It is just piss poor.